Publicistklubben fördömer Kinas agerande mot Kurdo Baksi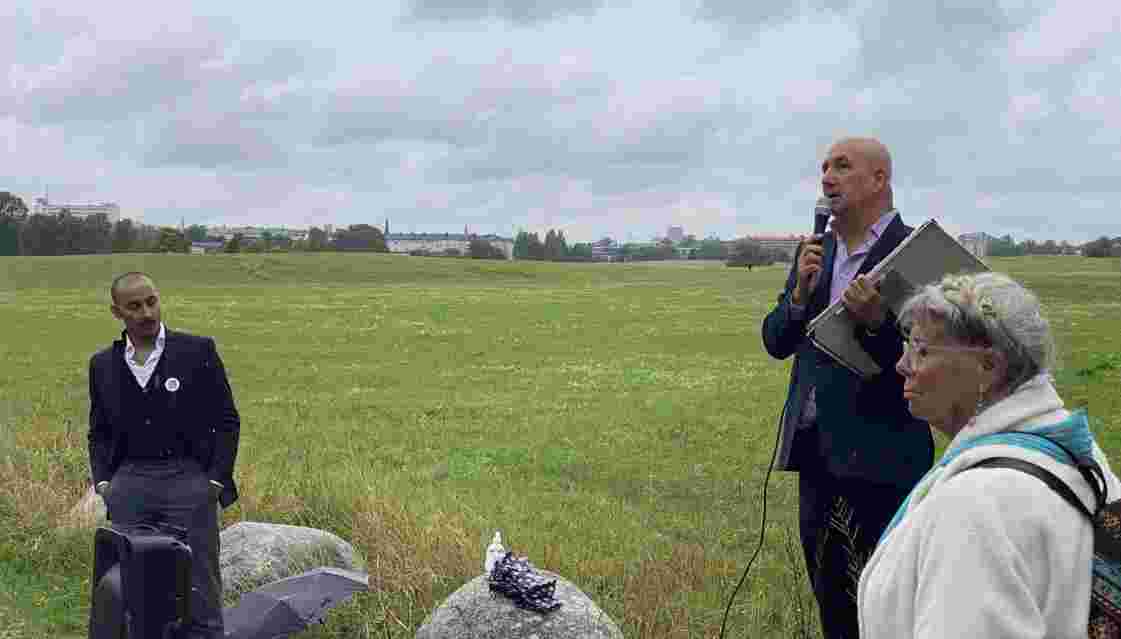 Återigen har Kinas ambassad agerat för att tysta journalisten och författaren Kurdo Baksi. Denna gång skedde det som en reaktion på stödmanifestationen som hölls för den kidnappade och fängslade svenske medborgaren Gui Minhai i tisdags. Publicistklubben och andra yttrandefrihetsorganisationer fördömer Kinas agerande mot Kurdo Baksi.
Den kinesiska ambassaden har skickat ett mejl till Kurdo Baksi och flera svenska medier. Detta efter att han anordnat en manifestation utanför ambassaden i Stockholm tisdagen 17 augusti, där Publicistklubben var en av medarrangörerna. I mejlet anklagar ambassaden Kurdo Baksi för att sprida lögner om Gui Minhais fall, att anstifta till hat mot Kinas regering och folk samt att bidra till ökad kriminalitet i Sverige.
Undertecknade organisationer fördömer nu det hotfulla agerandet och har skickat ett protestbrev till Kinas ambassad. Brevet har även skickats till Sveriges utrikesminister Ann Linde, och kan läsas i sin helhet nedan:
Embassy of the People's Republic of China in Sweden
Lidovägen 8
115 25 Stockholm
Regarding the Swedish journalist and publisher Kurdo Baksi
The signatory organizations has noted that the Chinese embassy on August 17 sent an email to the Swedish journalist and publisher Kurdo Baksi and Swedish media. As organisations highlighting and fighting for human rights and freedom of expression on a daily basis, we are the first to point out that journalists should always be prepared for being questioned. The fact that the embassy choses to comment on Kurdo Baksi organising a demonstration in support of the kidnapped Swedish publisher Gui Minhai is however something we must comment and react on.
We find it unacceptable that the Chinese embassy choses to critizise Kurdo Baksi and to portray him as a liar instead of responding to the clear human rights message communicated by the demonstration "Free the Swedish citizen Gui Minhai". The embassy insinuates that Kurdo Baksi is lying about the case of Gui Minhai even though human rights organizations and governments all over the world agree that China has violated Swedish and international law by kidnapping a Swedish citizen in a third country. According to the Swedish Ministry of Foreign Affairs, Chinese action took place in violation of common international law on consular assistance. The current situation raises many questions about the application and violation of the rule of law, including the prohibition of arbitrary detention. We stand with the Swedish Ministry of Foreign Affairs and demand that our colleague and fellow citizen be given the opportunity to meet Swedish diplomatic and medical stoff and that he will be released so that he eon be reunited with his daughter and family.
Our organisations are known for defending and protecting the freedom of expression in all situations just because the principle is so importont for our democracy. We will not stand and watch when the right to freedom of expression that we fight for is used to pursue something resembling a smear campaign against a journalist and publisher. Kurdo Baksi is not only a journalist and publisher, he is also a person known for his strong engagement in protecting human rights by highlighting cases where colleagues are imprisoned for criticizing governments – colleagues such as Gui Minhai. Therefore, we condemn the Chinese Embassy's claims against Kurdo Baksi.
Stockholm August 19, 2021
Ulrika Hyllert, President of the Swedish Union of Journalists
Robert Aschberg, President of the Swedish Club of Publicists
Jesper Bengtsson, President of Swedish PEN
Erik Halkjaer, President of Reporters Without Borders Sweden
Jesper Monthan, President of the Swedish Publishers' Association
Grethe Rottböll, President of the Swedish Writers' Union
Populära nyheter och debatter
Bli medlem i Publicistklubben
Publicistklubben har nyligen fördelat drygt två miljoner kronor i stipendier. Vill du i framtiden vara med och dela på dessa behöver du vara medlem.